Re-imagined and refined. The Millam Real Estate Group has some lofty goals in 2022 and they start with a refreshed brand and a promise of more community outreach.
Buying or selling a home is no easy feat. It involves a lot of planning and strategizing into getting the best price for a house that you want to buy or sell. If you're trying to navigate your real estate goals alone or are working with someone who has little or no prior experience, it can be difficult to be successful. In addition, you could be risking yourself getting caught paying too much or missing out on available cost-saving opportunities or key information that could keep you from closing on time, keep you protected along the way, or generally from becoming too stressed or giving up on your goals of making a move.
This is why the services of a real estate professional are not only handy during a time like this — it's imperative. So, whether you're looking to buy or sell your home (or land) this year, licensed REALTORS® work on your behalf to help you achieve your real estate goals and protect your best interests along the way.
We believe there is no one better to talk to than the Millam Real Estate Group when it comes to real estate sales in the 16-county metro region of the Twin Cities.

Owned by lead REALTOR® and President, Lori Millam, the Millam Real Estate Group services buyers and sellers under the KW Realty Integrity NW office in Otsego, MN.
As an outstanding visionary, Lori Millam began growing from a one-woman real estate business in 1997 to a small team in 2018. She and her business continued to grow, continuously expanding team members to the all-woman REALTOR power group they are today. This team of extraordinary women continues to be a trusted team in the realm of real estate as they follow their philosophy: clients come first.
It's About Growth and Transformation
As they continue to transform and grow the team dynamic, the Millam Real Estate Group also started to take on another transformation at the end of 2021 – refreshing their brand and tagline.
The original Millam Real Estate Group logo has been redefined by blending a softer font, format, and color scheme yet maintaining the same familiar palette as the original design. This refreshed design gives our brand a more refined and upscale vibe while retaining the familiarity in the brand our clients have come to trust over the past several years.
We feel the look and feel convey a visual message more aligned with our strategies, approach, and level of expertise and professionalism we put forth with each and every client we serve today – home buyer or seller.

You're going to start seeing this refreshed branding moving forward on all email communications, social media outreach, signage, print materials, website, and more.
However, the redesigning of the brand logo is only one of the several changes and improvements we want to achieve in 2022.
In addition to a refreshed look and messaging, the Millam Real Estate Group aims to tackle a few hefty sales goals this year – which really equates to more clients served — and served well.
In 2021, the Millam Real Estate Group collectively closed on 79 real estate transactions and meeting an almost 80% conversation rate for the year. For 2022, we are aiming to close more than 85 transactions completed — over $22.5M in real estate exchanges.
But our business is about more than just sales numbers.
The group is consistently refining our brand image with a new set of team imagery, messaging, and furthering our reach into the community — serving more clients before, during, and way beyond the sale or purchase of their new home (or land).
It's about better service and giving back.
Our group has committed to a quarterly charitable contribution goal this year — committing to give a percentage of our closed sales to select focused charities each quarter. That select charity or organization will be one that holds a special meaning or connection to someone in our group.
This quarter (Q1 2022) we have selected the organization No Dog Left Behind Minnesota. NDLB is a 501c3 nonprofit that is 99% comprised of volunteers on a mission to find abandoned, abused, or neglected dogs a new forever home and reducing the number of homeless dogs.
Aside from this, the Millam Real Estate Group is bringing local educational events and client celebration gatherings to their community each month. We want to go beyond business goals and show our clients and partners how much we really care about supporting the communities and neighborhoods we serve.
One such event that has already taken place was a co-hosted community awareness seminar about the importance of wills and trusts. This was a free event we hosted at our KW Integrity NW office in Otsego along with Molly Nadeau-Peterson with Waterstone Mortgage and guest speaker, Jeff Litfin, a certified estate planner with Generations Legal Services.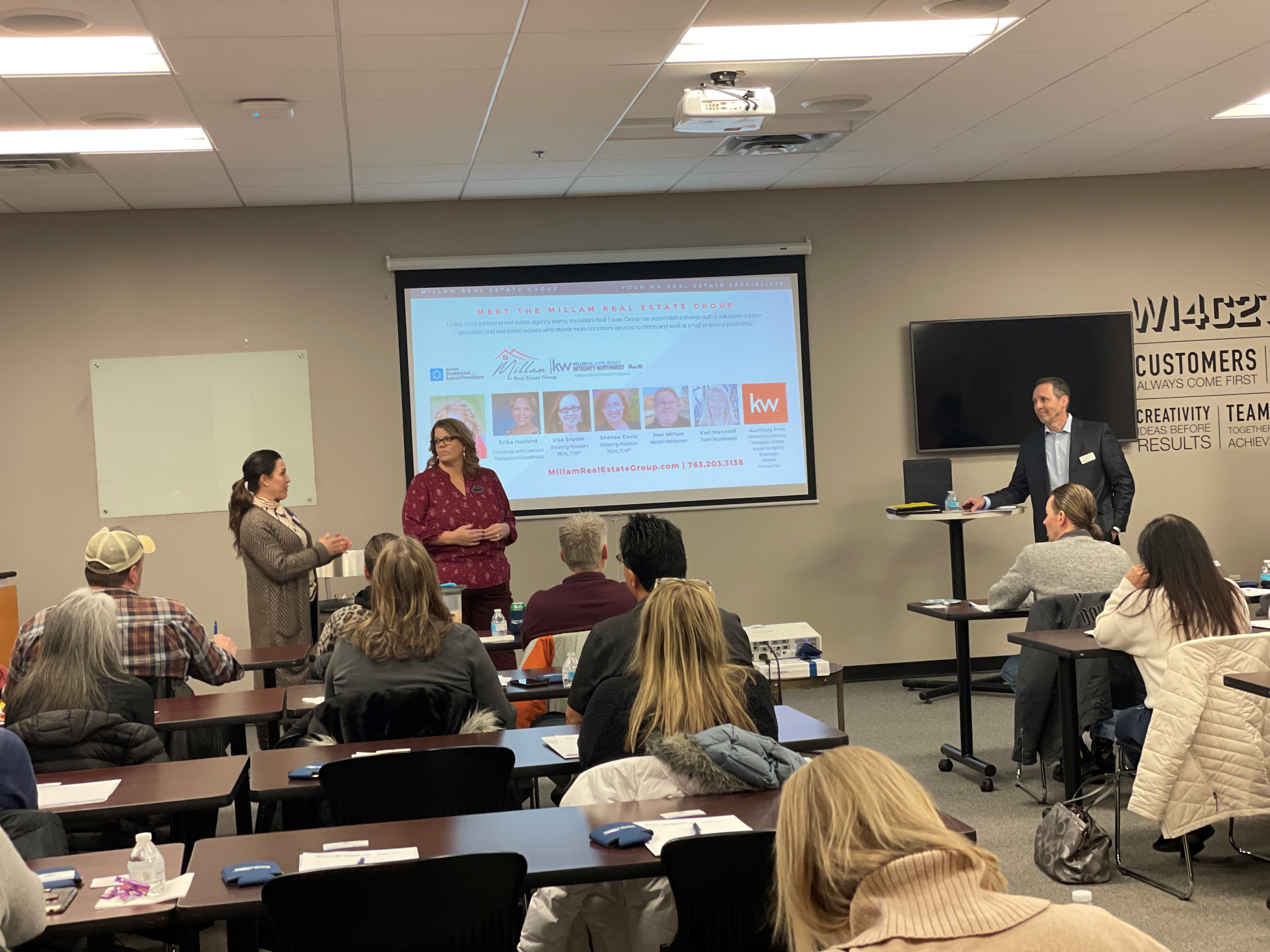 You can learn more about that event and see a playback here.
And this is just one of several special events the Millam Real Estate Group is planning to bring to its clients and communities this year.
Clients and Community First
The Millam Real Estate Group will continue to stick to its ideals of putting clients first. And, this will come through in everything we have planned including the expansion of our email and video communications.
Clients, partners, and community members who subscribe will receive monthly community market updates presented through a special video communication from Lori and the team as well as highlights of local vendors, businesses, and partners we feel bring value to our clients and community throughout the year.
The group has also committed to reaching out to past clients on an Anniversary Campaign that helps keep homeowners in tune with current housing values and in touch with the Millam Real Estate Group as a trusted go-to resource for any of their home maintenance, improvements, or moving needs.
We'll be reaching out to clients that made a move in the past 1-5 years to offer each of them a free sit down with Lori, in-person or virtually, so they can review their current home values and just check in and catch up on life.
Real Estate Life, Challenges and Goals for 2022
Facing a volatile market with limited inventory and high buyer demand, the Millam Real Estate Group has lofty goals for its growing team this year. But, no matter what challenges lay ahead, there's one thing we can ensure, and that is we will continue striving to bring better visibility of our brand, building a stronger sense of trust and integrity, and using our brand's expanded presence along with each team member's commitment to better the lives and success of our clients and communities.
If you are looking for a professional with whom you can work for your real estate concerns, contact us now at the Millam Real Estate Group.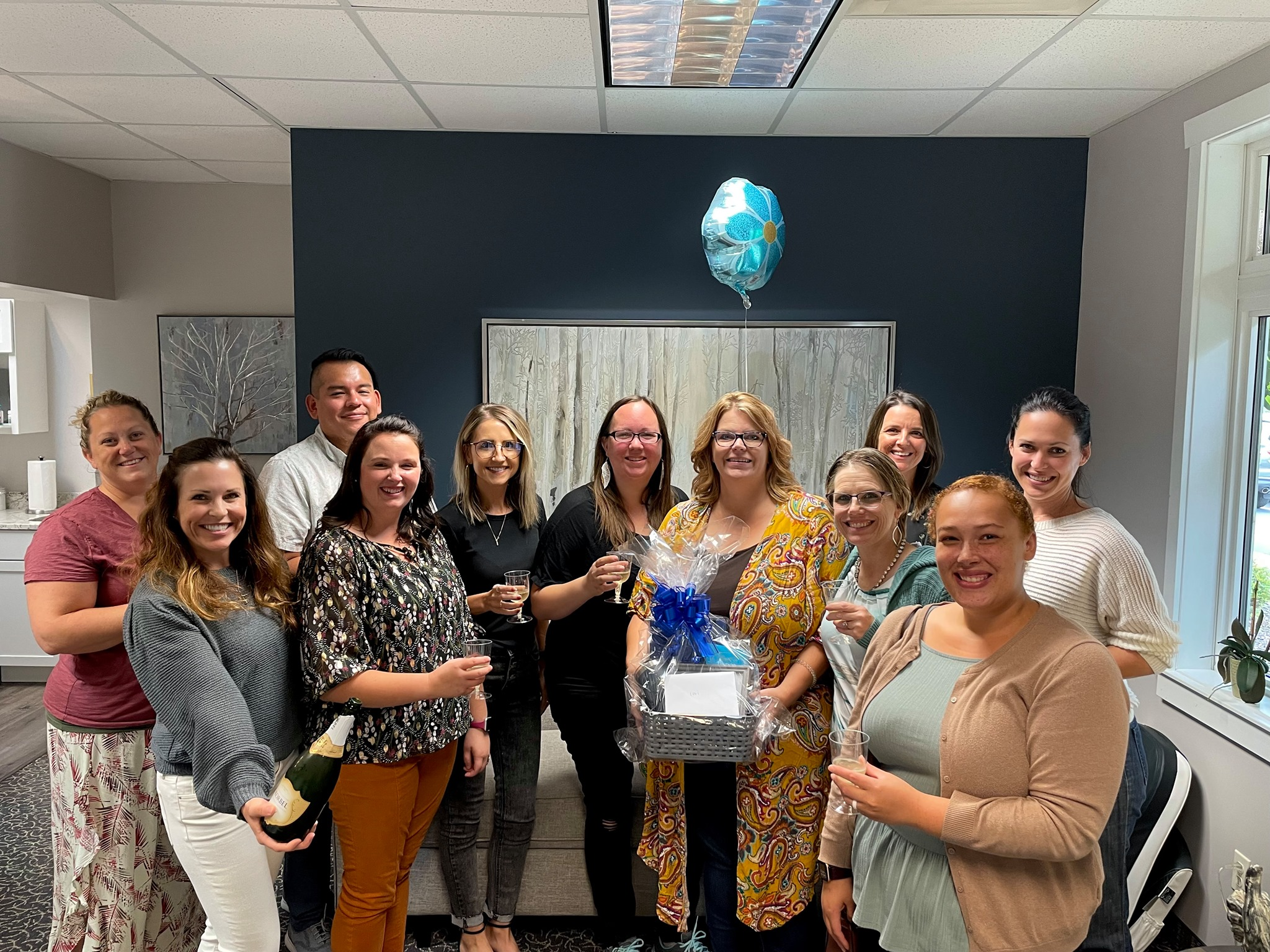 Schedule a FREE Real Estate Strategy Call with Lori Millam today by calling 763.333.7445.
ADDITIONAL RESOURCES