Military Honor Runs Deep - All Year Long - with Keller Williams and the Milliam Real Estate Group.
November is Veterans Awareness Month and May is Military Appreciation Month, but KW Realty supports our military men and women all year long.
The focus of Keller Williams is always community first, and nowhere is the framework of community more exampled and valued than with those who have, and continue to serve our country and our communities honorably.
Military men and women lead with determination and a profound passion for serving and standing up to protect those in vulnerable circumstances. They are hardworking, honorable, loyal, fierce, and unrelenting in their pursuit to be the best at whatever they set their mind to be.
They are some of the first to step up and step forward, and they are most often the ones to take on a challenge — seeking out opportunities and resolving to find a solution to challenges.
Many of the traits we've described above are common among active duty members, veterans, military spouses, and their families. We know this because our team has been blessed with a member of the military family who holds those same traits and values close.
Erika Holland, a valued team member of the Millam Real Estate Group and the KW Integrity NW family, was presented the KW Military pin in honor of her husband and son who both serve the U.S. Military.
Erika shows the same dedication and work ethic you would expect of military personnel, but that's really how members of military families operate - each digging in to do what needs to be done to keep home life moving along and supporting each other on their individual paths.
Keller Williams recognizes those traits, the sacrifices made, and the commitment upheld by those members of the armed forces. They also recognize more of the same in their family members. That's why Erika now wears that pin proudly, today. And, it's why Keller Williams has stood beside career REALTORS® like Erika and members of the armed forces who seek a career in real estate.
In addition to acknowledging our military team members with a custom pin that calls out their honor, KW Realty has also developed other tools and resources to support their real estate career journey.
It's how the KSCORE program was born - The Keller Successful Career Opportunities in Real Estate (KSCORE). It was created to disrupt traditional real estate education by bringing proven business strategies that support an individual's career aspirations; taking in account other training received in the field and accelerating those who push boundaries.
It's a completely digitized curriculum offered by Kaplan Real Estate Education's* best-in-class real estate licensing and continuing education (available at zero cost to you). So now the path to becoming a successful real estate agent has never been more comprehensive and accessible.
Then there's KW COMMAND.
Shaped from the models of The Millionaire Real Estate Agent, Command is a comprehensive operating system empowering KW Agents with the ability to optimize, manage, and run their business with unprecedented simplicity and insight. KW Command is the dashboard to Keller Cloud that will soon end all dashboards - a centralized environment for everything an agent and their team must accomplish during any given day. It allows you to manage day-to-day operations, market listings, and market themselves to other KW agents across the nation.
Within Command is a profile management tool where REALTORS can build out their profile experience, education, designations, and affiliations. One such affiliation is a Military Affiliation. Here, the REALTOR can expand on their service details and promote that affiliation and connect with others who hold the same high standards and experience in their resumes.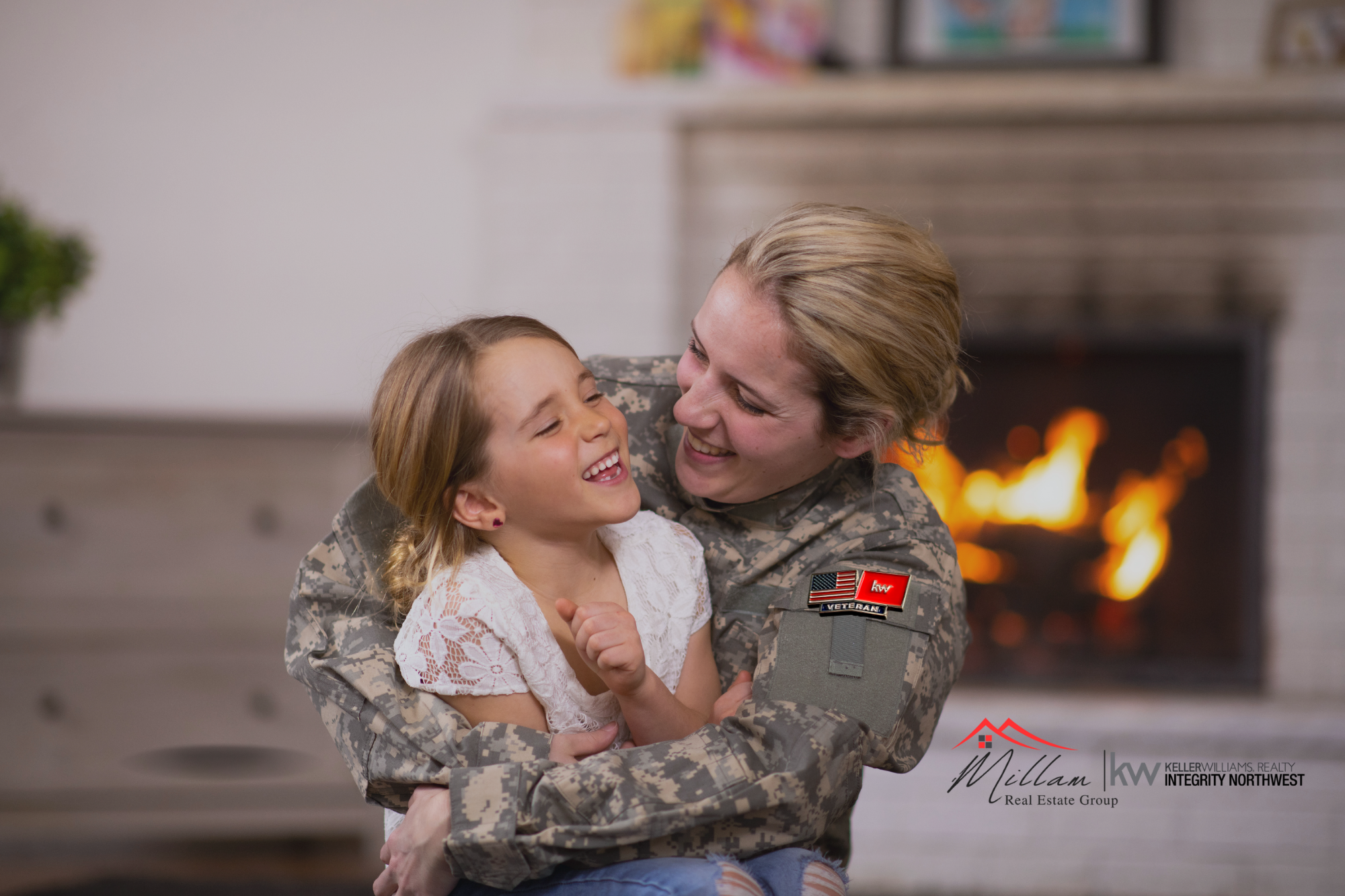 Like Magnets - KW Military family attracts others who serve in the same capacity.
The Millam Real Estate Group has a long history of helping and guiding US military persons and their families to achieve real estate success, and are proud of the exemplary service they've provided to this segment over the past 1/4 of a century.
Here are just a few success stories that have a special place in the team's hearts.
Wyatt
Johnson. Wyatt is a 3rd generation client who recently purchased a home in Cambridge with the help of Millam Real Estate Group. Wyatt's parents and grandparents are also past clients and have completed a couple of transactions themselves. When mom and dad purchased their last home, that purchase came with a LOT of land, but only a tiny, tiny house, which kind of forced Wyatt to grow wings and
find his own place. The Millam Group was glad to be a part of his journey into first-time homeownership.

Tim Grant. Tim is a past client who has completed over 5 different real estate transactions with the Millam Real Estate Group over the
years. He is a proud papa with a son and daughter who are both currently serving in the Marines! Lori Millam really got to know Tim's family from a whole other perspective when his daughter and Lori's daughter ended up playing hockey together in school.
Lori helped Tim both sell their home and purchase a new one with their desired
closing date so they would not miss their daughter's military
graduation - even after a couple of delays out of their control. Fortunately, Lori was able to make it work for everyone involved on both sides and Tim and his family were able to sell their home in Cambridge and then close on the purchase of their new home in Zimmerman.

Jim Tice. Jim and his family are past clients we helped achieve real estate success in a tough multiple-offer market. Jim needed to sell their home in Elk River and wanted to purchase their new home in Princeton, but that transaction would test everyone's resolve. That Princeton house; the one he now calls home, was a sales battlefield of
THIRTY-ONE competing offers that the Millam Group helped Tim win! They were even able to receive an extra day to get everything over to their new home before giving possession
to the new buyer of their old home.
Chandler Hanover. Millam Group sold Chandler's home last year when the market was very hot
in Elk River. After the sale of their home, Chandler and his family rented for a year before Lori then helped them
buy their dream home in Isanti this
year. Renting for that short time allowed them the time they needed to save additional money they were able to leverage in a competitive market, positioning their offer with no home contingencies. Now they get to settle into the new place just in time for the holiday season.
Reece
and Nika Sandberg. Arguably one of the Millam Real Estate Group's favorite military family clients and success stories. The couple was referred
to Lori Millam by a lender who knew she could help the couple relocate to Minnesota. Nika
was only in town for a short time, so when she was here, the team needed to line up properties for
her to see quickly. Additional virtual showings were arranged with her husband, Reece, whenever possible too. Sometimes the team would be providing virtual tours of the properties as well as showing other family members who also wanted to see the homes. The couple recently found their home in Braham and are settling in.
Lori has an ongoing unique relationship with Nika, whom she describes as a sweetheart. She

watched Nika grow up, marry her high school sweetheart, then move to South Carolina for a while to be near Reece as he pursued his military career. During all that time,

Lori also helped Nika's mom and dad with four of their own real estate transactions (over the course of 20 years). Today, Nika and her family are back in Minnesota and have a beautiful baby girl.
So many moments. So many lives touched. So many success stories to share. Yours could be next!
Want to learn more about what it means to be served by the best real estate team in the NW Metro region of the 16-country metro area?