Are you looking at making a move and wondering wonder if purchasing a town house is right for you?
If you've ever found yourself asking the question,"What are the advantages or disadvantages of owning a townhome versus a traditional single family home?", then READ ON!
The ladies of the Millam Real Estate Group are breaking down the townhome ownership advantages below.
Before we jump into their pros and cons, let's first make sure we're all on the same page about what defines a property as a town house.
What makes a townhome or town house different from a traditional family home?
The term townhouse is used to describe multiple property units mimicking a detached home but are typically attached in a multi-unit complex through shared or common walls, but detached townhomes are also cropping up in certain communities across the Twin Cities area.
A town house, unlike a duplex or fourplex, is individually owned. And, although they look similar in some cases, the main difference between a townhome and row house is how they are actually arranged in construction. Row houses are literally lined up all in a row, while townhomes are often configured side-by-side or back-to-back.
The difference between townhouses and condos is a bit more confusing at times because it really depends on the form of ownership passed through the sale of the property. Some town houses are sold as condos (and vice versa).
The one thing you should know if you purchase a townhouse as a condo is this, as a "condo" owner you only own the inside of the unit, not the exterior or framework. If you purchase it as a townhome you might own exterior property (yard) as well, but this will all be subject to the rules of a the (HOA), or homeowners association.
The townhome lifestyle comes with a list of additional advantages, as well!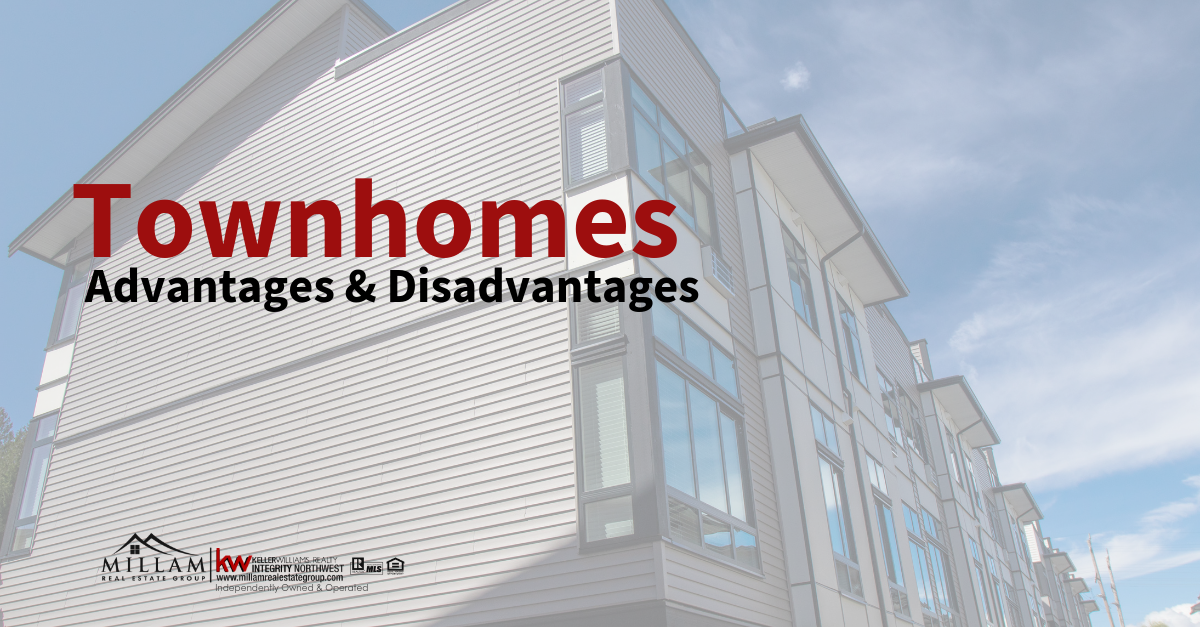 So! Should you consider townhome ownership?
Use this list of Pros and Cons to help you decide!
PROS / ADVANTAGES
Low-Maintenance Living. Townhome communities come with a HOA (homeowners association) who is responsible for the exterior maintenance of the property. They maintain the landscape and will remove snow from common areas and parking spaces. However, snow removal from your individual drives and sidewalks are HOA dependent. They're responsible for the general maintenance of the exterior of the structure as well such as the siding, bricking, and roofs, as well as common area structures such as pools, parks, and community room spaces or office space.
Community Common Areas. Townhome communities, especially the newer ones, often come with common spaces that can be enjoyed by every home owner and member of the HOA. These spaces are great for building a sense of community. Your pool space, workout/exercise rooms, parks and trails, or community rooms are examples of this. Some townhome properties also include banquet rooms and mini-office spaces, or even coffee and sundry shops.
Location. Location. Location. Because they're designed as neighborhoods or mini-communities within a community, they're typically built in convenient and accessible locations that foster the maintenance-free lifestyle and convenience rather than a more remote area. You'll typically find public transportation within reach as well as nearby shopping and dining options.
CONS / DISADVANTAGES
HOA Fees. Those homeowner association fees will vary from community-to-community based on the services included, the size of the community, the insurance policy and more. Your HOA fees usually cover

common area maintenance, exterior building maintenance, limited insurance to cover exterior property damage and repairs, sewer & roof maintenance, and insect infestations that can harm the exterior structures (like termites or carpenter ants). Some larger associations will even include security measures at times.

Privacy. Because you are often sharing walls and/or yard spaces, your privacy is more limited than it would be with traditional single family property purchases. Shared yards also makes living spirited pets or family members can be a challenge, but those shared common spaces help provide appropriate spaces to let off a little steam.
Community Regulations and Restrictions. Remember those HOA agreements? Well, they come with some common rules every member of the association community agrees to adhere to. You want to read these carefully before making any 'final' decisions to purchase because some may effect your expectations of the perfect place to live or raise a family. Some restrictions are designated to changes of the exterior materials or structure of the home. Some include pet restrictions. Even pet-friendly associations will have restrictions on the number, size, or even type of pets you can or cannot have on the property which is addition to any city-wide ordinances and regulations. Other regulations often overlooked are restrictions on the number of vehicles or whether or not you can have a commercial vehicle on the property; even those branded with window decals or full body wraps. Gardening and holiday decor are also commonly restricted in use.
At the end of the day, townhome living isn't for everyone, but if you're looking for a place you can call your own, potentially grow equity, gives you a sense of instant community, offers additional amenities like you would find in apartment living, and takes the worry out of most property maintenance needs, then this may a great option for you.
Want more information? CALL 763.241.7607.